Date of this Image May 2012. Above with my sisters Emma & Miriam with
our mother Gloria [Aug. 2012 RIP] at age 97 also pictured with us is
the Location's Managing Partner: Allyson McClendon who also past away in 2014!
---
Chef Carlos is presently employed with Darden Restaurants.
Specifically @ The Capital Grille Now and worked @ Olive Garden and The LongHorn Steak House as Lead Prep, Saucier and Cook.




Olive Garden | LongHorn Steakhouse | Cheddar's | Yard House

|
T

he Capital Grille | Seasons 52 | Bahama Breeze | Eddie V's Prime Seafood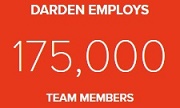 ---

*We no longer own Red Lobster, it was sold out of Darden in 2014!

About Darden
Darden is the world's largest full-service restaurant company.
The Darden family of restaurants features some of the most recognizable and successful brands in
full-service dining: Olive Garden, Longhorn Steakhouse, The Capital Grille, Bahama Breeze,
Seasons 52 and Eddie V's. Our brands are built on decades of learning from our guests.
Their culinary inspirations come from the fishing villages of Maine, the family tables of Italy and
the American West – icons that reflect the rich diversity of those who visit our restaurants.

In fact, it's no exaggeration to say our biggest brands have become icons themselves.
Since opening our first Red Lobster restaurant in Lakeland, Fla., in 1968, Darden has grown to become
the world's largest full-service restaurant company. Through subsidiaries, we own and
operate more than 1,900 restaurants, employ 180,000 people and serve more than 400 million meals a year.
And One of Fortune 100 Best Companies to Work For

---

2011 to 2012- Chef Carlos was employed as a Seafood Specialist for "The Fresh Market" until
February 2012 when he resigned, when called to work with Darden Restaurants.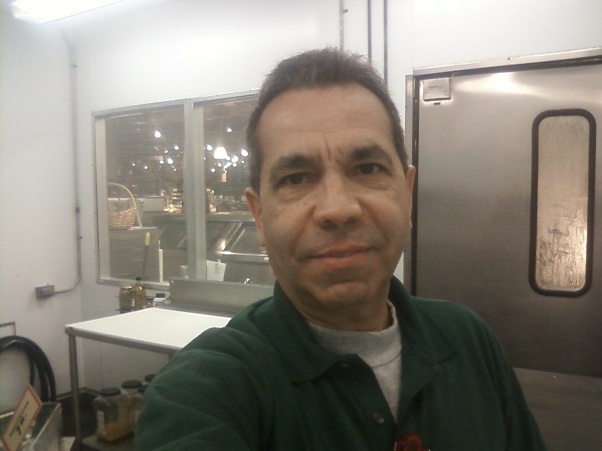 Seafood Specialist, ordered, portioned per customer's order, prepared all seafood salads,
braded fish filets with a Varity of Panko breading and set up all display cases with all the Seafood Items.
As well as the displays on the floor portable iced display cases.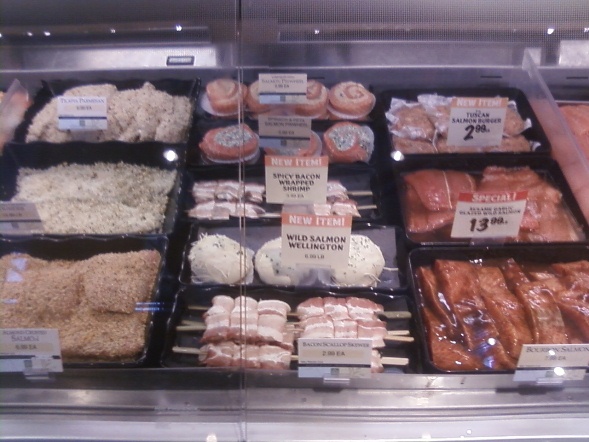 Breaded and prepare all ready to eat items and set up the whole display cases everyday.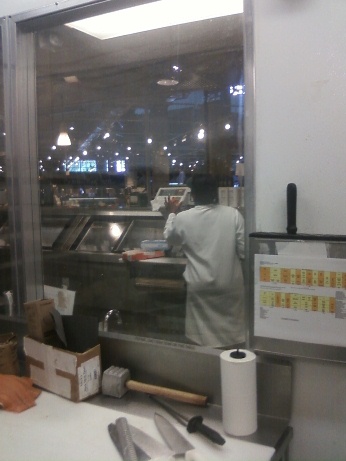 Store View from inside the seafood preparation room window.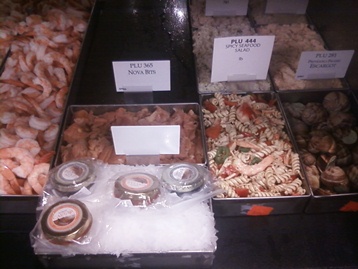 Display case set up rear view. The side we serve the customers from.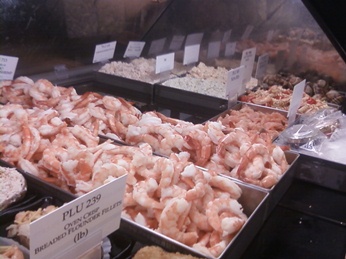 Display case set up rear view. The side we serve the customers from.
---
2010 to 2011- Below are of Chef Carlos' employment Images prior to Sept 2011 @ the InterContinental Hotel Miami.
Chef Carlos wanted to get out of the kitchen and a change of pace after 30 years in the business. BUT after The Fresh Market,
He returned to what he loves to do! Cooking and working with Recipes at Darden Restaurant's Longhorn Steakhouse.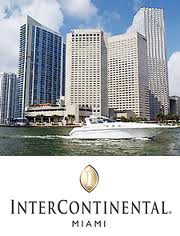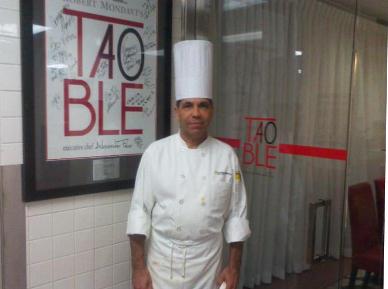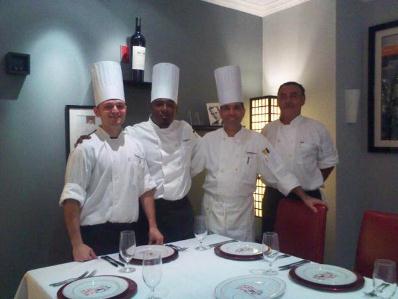 Carlos, Sauté Chef for the InterContinental Hotel Miami's "Indigo
Restaurant", The Hotel's Room Service & Bar.

Left to right are Chefs:




Nick, Philippe, Carlos and Rafael. "The Night Team"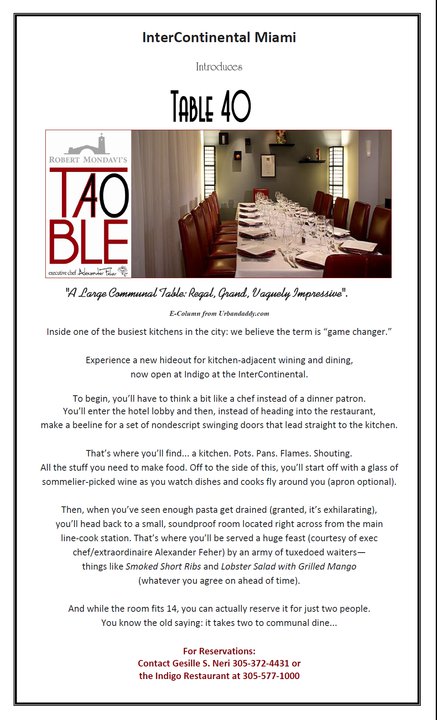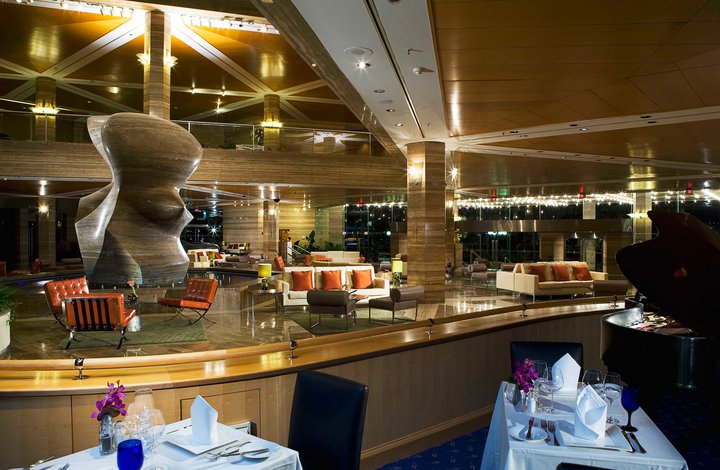 NEW!!
My Catch of the Day Creation pictures from when I worked at the InterContinental Hotel Miami.
Picture below
portioning Rib-eye steaks, churrasco and
afterwards the seafood [fish] & catch of the day.
---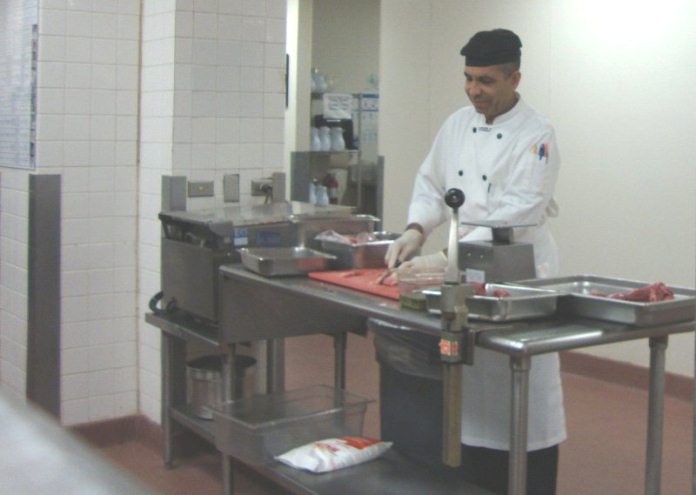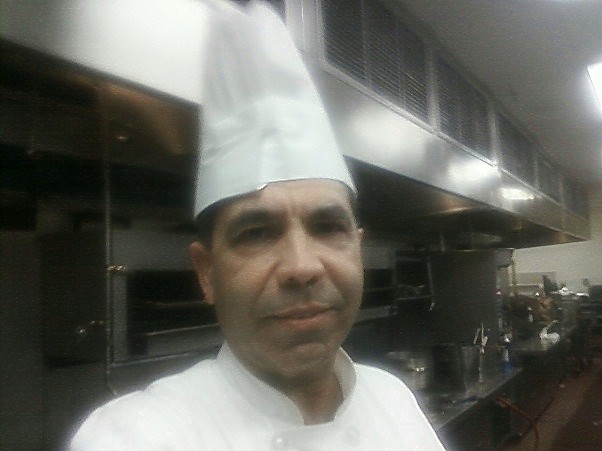 The Indigo's Restaurant Kitchen view of the Sautee and Grill stations.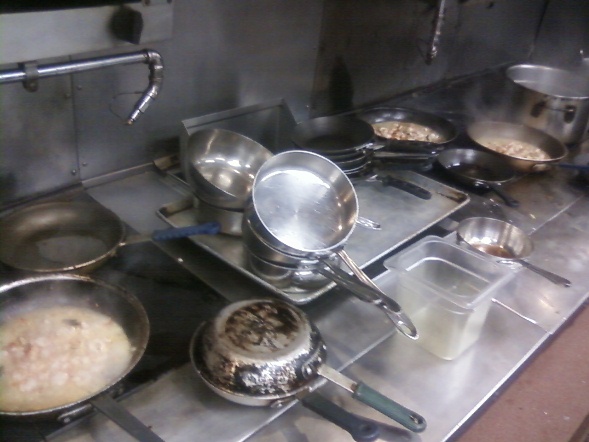 My Sautéed station with twelve burner stove. Here making our delicious "Bang Bang Shrimp"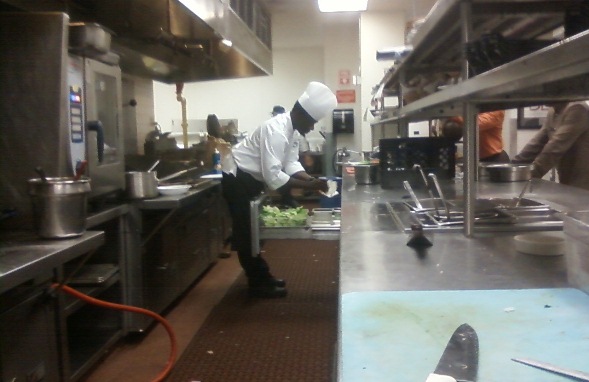 Sous Chef Arnold working the Chargrill, he loved working the grill. I worked the seafood and
sautéed station with the blue Cutting board at this end of the line. Pantry and dessert station is at
the other end of the line and turns left. Either Nick, Philippe, or Rafael worked the Pantry.
On my day off either Nick or Philippe would work the sauté station.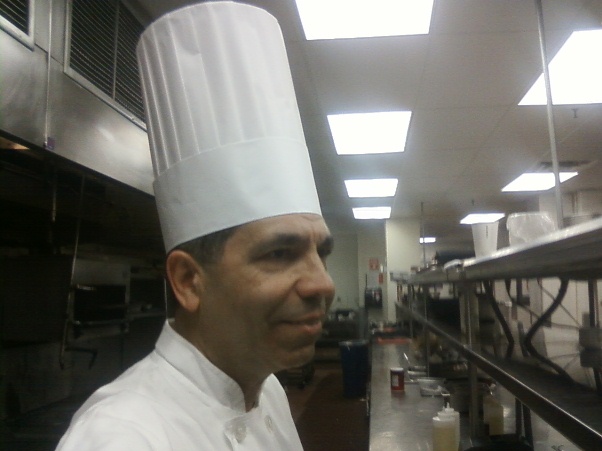 Me at opening dinner time at 3 pm, the shift change from lunch to dinner, this is quite setup time.
above is me talking with one of the servers about the catch of the day special..
---
Below are some of my Catch of the Day creations. I was to everyday create a Catch of the Day Special for
the Hotel's in Room Service, The Indigo Bar and for The Indigo Restaurant's Dinning Guests.
When I came in to work I was given whatever
seafood the Ex. Chef had ordered for the day and it would be a surprise so I had to create a dish for that
evening's dinner offering along with our regular full menu..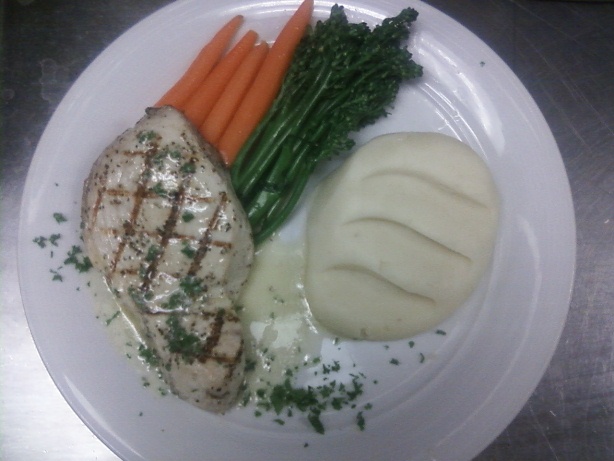 Grill Mahi-Mahi with Veggies and Mash Potato. More Pictures here!

Scallops with baby veggies and mash potato.

Crab Cakes with a Jicama and Granny Apple sticks in
a Citric Mustard sauce over a roasted corn ragout.
Another on of my Catch of the day a Lobster, shrimp and mussels in a mild creole sauce with white steamed rice.
See More of my Catch of the Day Creation pictures here!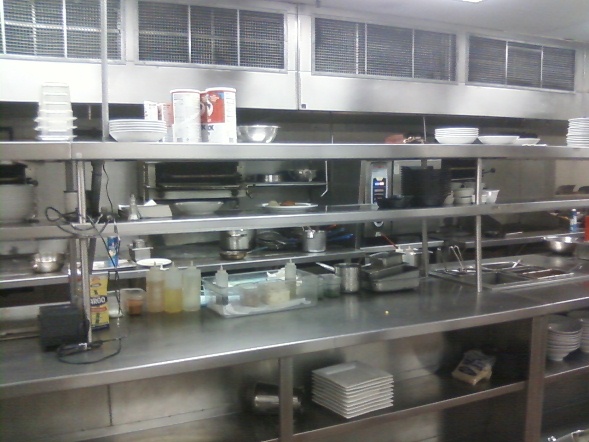 My sauté station side of the kitchen with 12 Burner and two broiler salamanders.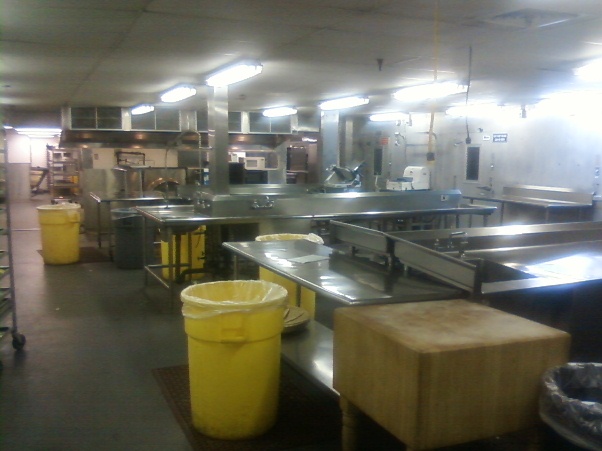 The Protein and Garde Manger Preparation area, one of three Banquet preparation sections of the Hotel.

---

2010- "HMS HOST" AT THE MIAMI INTERNATIONAL AIRPORT

Carlos J. Gutierrez
Assistant Restaurant Manager @ "Jose Cuervo Tequileria"
By:
HMS Host

in a Manager Employee position.
Miami
International
Airport
Main position was manager for "Jose Cuervo Tequileria" Restaurant and Cantina.
While the restaurant was being completed or renovations, I managed a Multiunit restaurant inside
three terminal at the MIA, Including: Nathans Hot Dogs, Quiznos, Pizza Hut, Great American Bagel, Sbarro and
the Home Turf Sports Bar.
As Restaurant Manager at MIA for "Jose Cuervo Tequileria"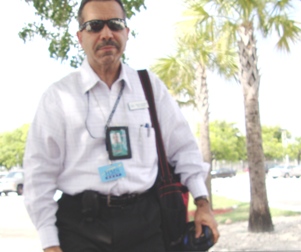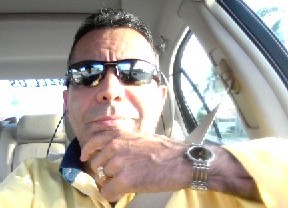 Getting to work, here in the Airport's employee Parking lot,
When I worked @ MIA until August 2010.
I was issued an "Escort Class" Airport Security Badge.
My position was Assistant Manager II "JOSE CUERVO TEQUILERIA" With over 50 employees Front & Back of the House.

Before Jose Cuervo's, I managed another section of the Miami international Airport "Satellite Gate E" in a
Multi-unit location as follows: Sbarro's Italian Restaurant, Pizza Hut, Quiznos, Great American Bagel,
Nathans Hot Dogs and Home turf, a sports Bar. All at the same time.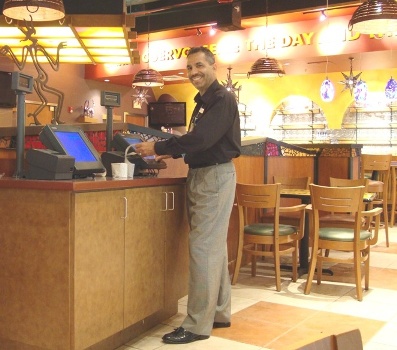 Above @ "Jose Cuervo Tequileria".
It is in Miami International Airport Concourse "D15" American Airlines for boarding passengers.
Check out my pictures there until Aug 2010. Then went to InterContinental Hotel Miami.


---
2010- Buca Di Beppo Restaurant,
A few months Asked by Restaurant Managers Peter & Alex at the location of
Miami Lakes, Fl. to help them out as Server and for private parties.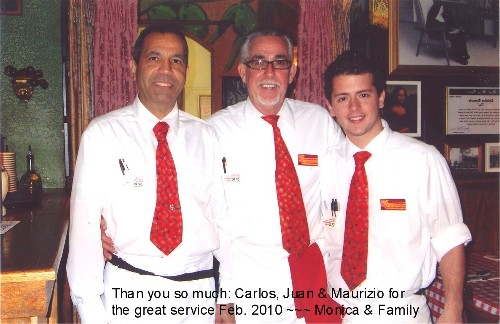 Buca Di Beppo "this Location Closed end of 2010" Then I went as Restaurant Manager for "Jose Cuervo Tequileria" @
the Miami International Airport for six Months to set up and the opening of the Restaurant at
Terminal D then I moved on to the InterContinental Hotel in downtown Miami @ Bayfront Park.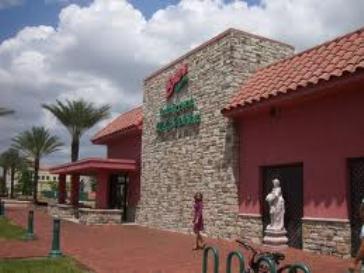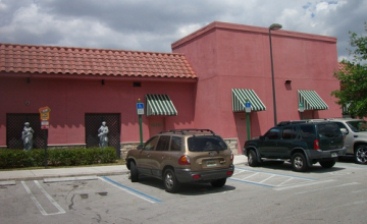 15251 Northwest 67th Ave. Miami Lakes, FL 33014
This location Closed, it is now The Ale House in Miami Lakes.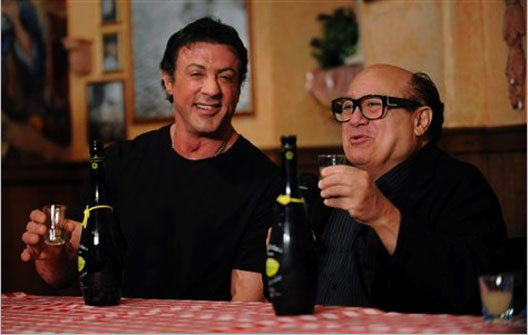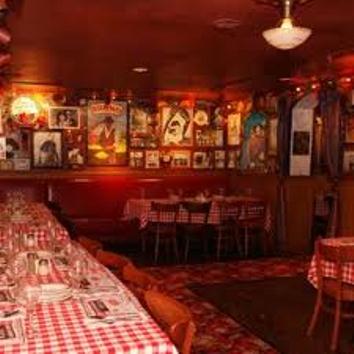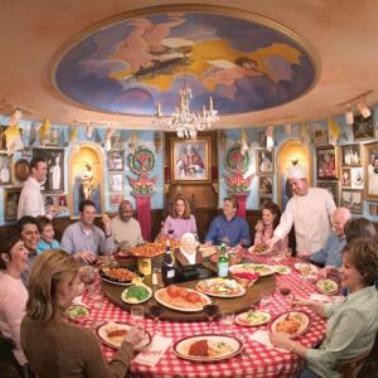 | | |
| --- | --- |
| Back room Dining area. | The "POPE" Table for private reserved parties. |
---
2009- 2010 Canyon Ranch Miami Beach
68 street and Collins Avenue.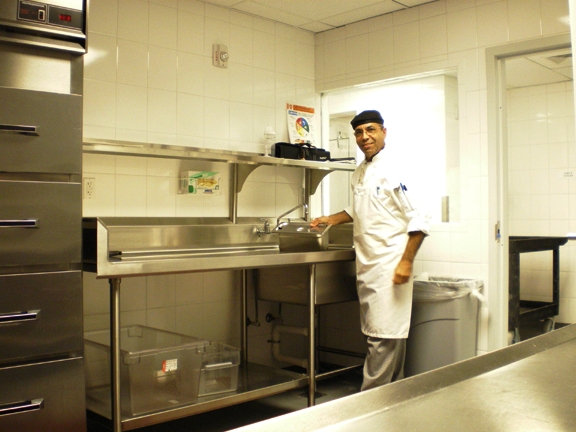 Chief Butcher for all outlets, ordering and receiving as well as cleaning and
portioning all the Organic Seafood, Meats and Poultry for the Hotel.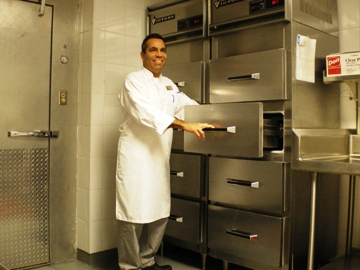 Fish Draws and whole organic fish to filet.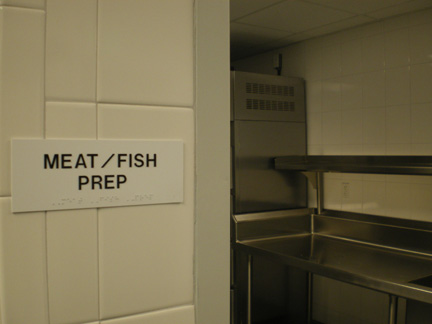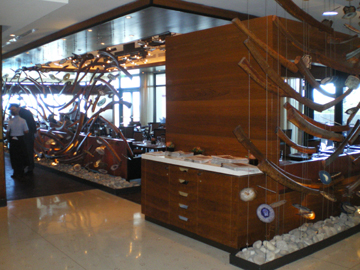 | | |
| --- | --- |
| My butcher room, steady at 60 degrees with an additional storage cooler and freezer within the prep room. | Inside the dining area of the Hotel |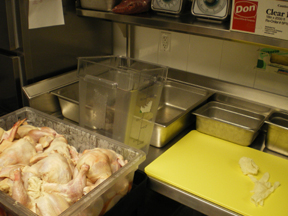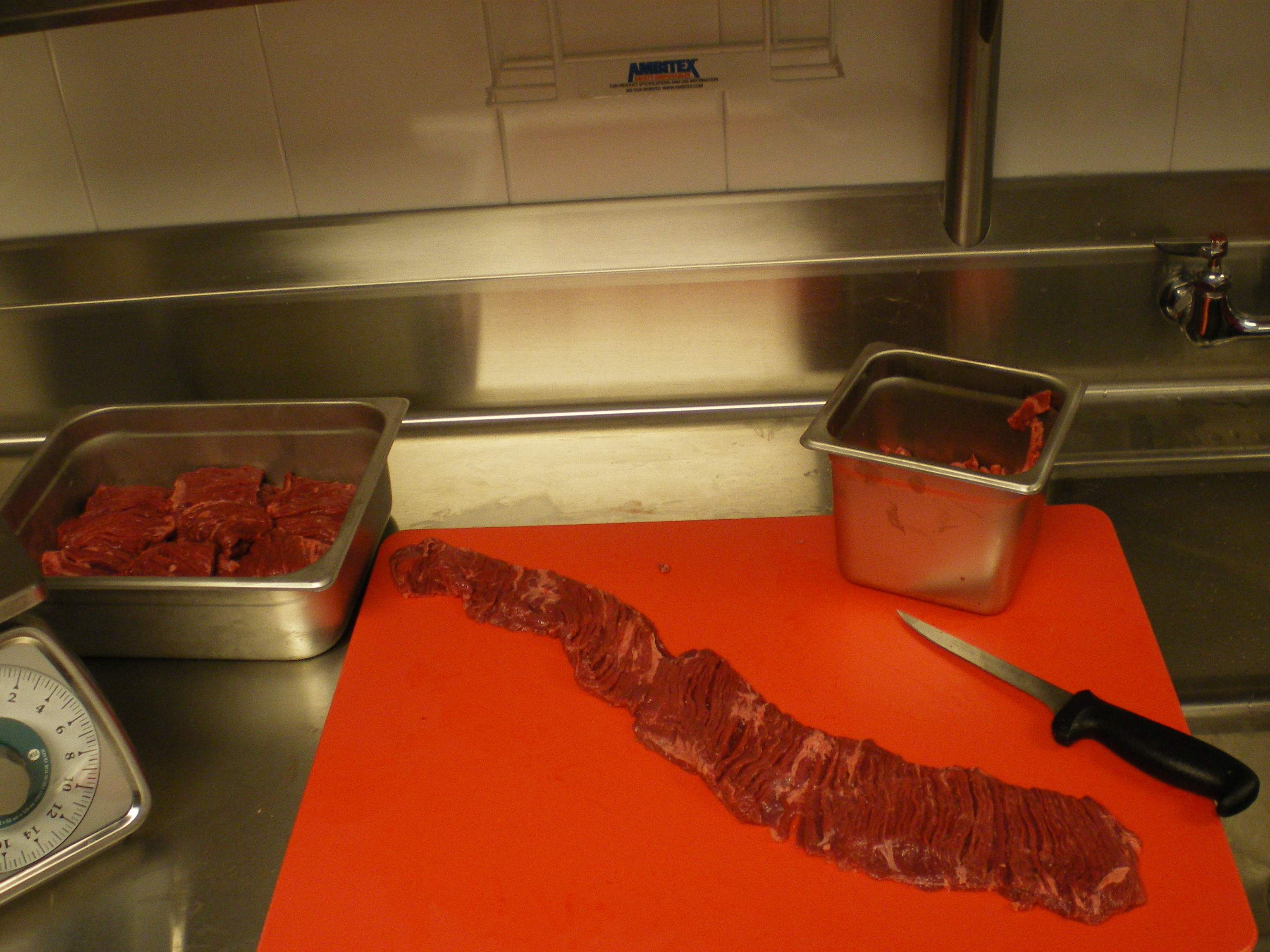 Poultry. Seafood. Beef Meats.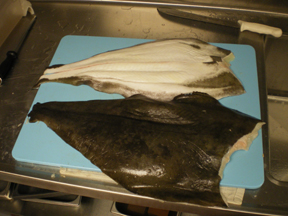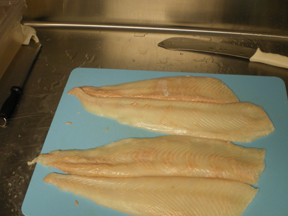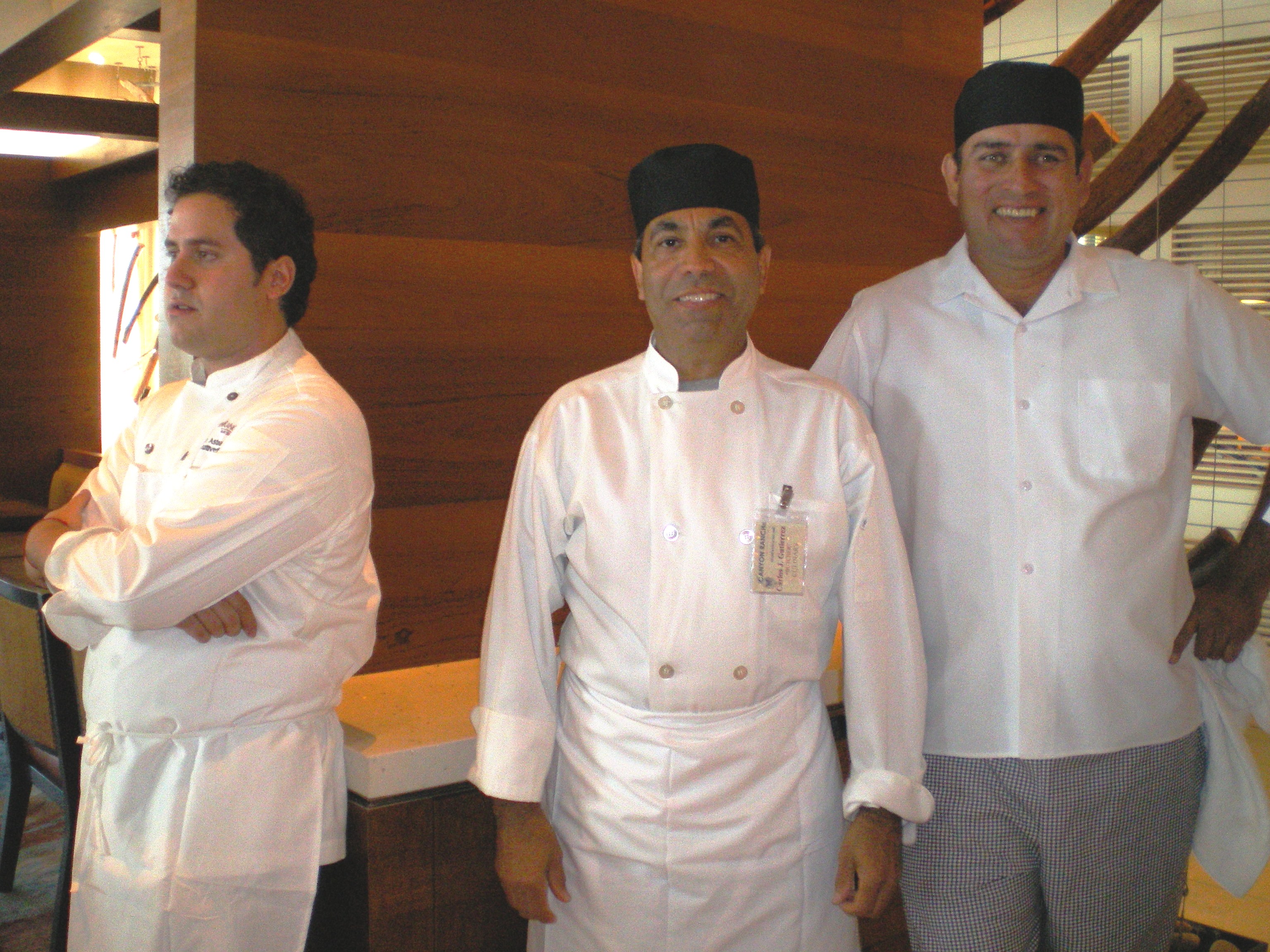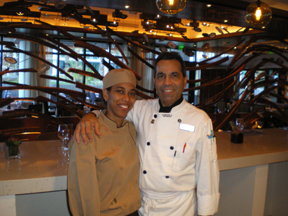 Left: Executive Chef Alex on the left, Chef Carlos and utility Antonio on
the right.

Right: Cook- Rosio with Chef- Carlos in Culinary Butcher for Canyon Ranch, Miami Beach, FL Resort 68 St & Collins Ave.
See more picture of Canyon Ranch here.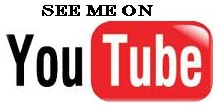 "HOW TO BUTCHERING CLIPS, By Chef Carlos"
Click here or on You Tube logo

---
2005- 2008 Norwegian Cruise Lines
Executive Chef Carlos on-board 4 Norwegian Cruise Lines Ships
"The Pride Of America" - "Pride of Hawaii" - "Pride of Aloha" & "The Jade"

---
Chef Carlos was a "Two Stripe Officer Merchant Mariner" aboard NCLA's Three (3) Cruise Ships.
Worked a Butcher and Relieve Chief Butcher in all three cold rooms [Poultry, Seafood and Meat]
As Ex. Sous Chef, Carlos ended his employment with NCLA due to massive layoffs in end of 2008.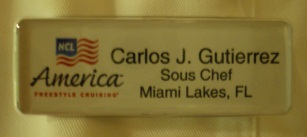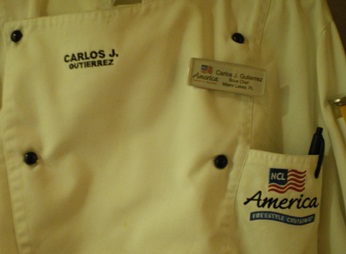 My Name badge and My Chef Coat in 2007. Final contract ended at the end of 2008 as Ex. Sous Chef.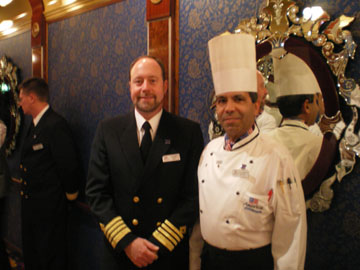 On Norwegian Cruise Line's Ship the "M/S Pride of America" Captain Evan Hoyt with
Ex. Sous Chef /Two Stripe Officer & Life Boat Commander Carlos J. Gutierrez on March of 2008
---
"Class of 58" Piney Point Maryland! January 2006 upon being hired we had to complete a moth training in
Maryland's Piney Point Academy before boarding the ship in Hawaii.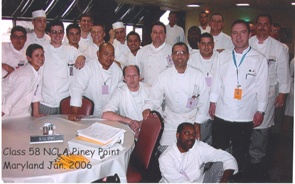 Above is the Graduating "Class of 58" @ Piney Point Maryland at the Seafarers
Paul Hall Center for Maritime STCW Training and Education.
---
Jan 2006 started as First Cook/Butcher. Performed all duties in the
Protein Food Preparation Refrigerated Rooms: Meat, Seafood and Poultry.
I acted as temporary Chief Butcher during Contract intervals of the main Chief Butchers.
I Cleaned and portioned all products as needed for all the outlets of the eleven restaurant on
the Ship including the staff kitchen for the "Pride of America".

I was Promoted to Sous Chef and work at that position on the "Pride of Hawaii",
the "Pride of America" and the "Pride of Aloha" during the last year employed with NCLA.
I was laid off at the position of Executive Sous Chef in early 2009.
I was called back to the Ship five months after being laid off but I had already been
hired By The Canyon Ranch Miami Beach Resort & Hotel in Collins Ave Miami.

---
Below is our 2008 Chef's final Cruise on NCL.com's the "Price of Hawaii" as the Ship went International and
some of us Chefs got displaced to the only one left American Flagged Ship,
the "Pride of America" in the port of Honolulu Hawaii. Some or most of us got laid off or left the Ship life after that.
May 2008 The Final Voyage Chef's Portrait on the "Pride of Hawaii" from Honolulu, Hawaii.
The Executive Chef was Rainer Whorle in the front center, no hat!
Chef Carlos is in the back left side with the black neck tie. I miss the Ship & everyone of them,
Well, Except One! It was a great working there.
The ship was turned over for International Cruising and renamed "The Jade".
---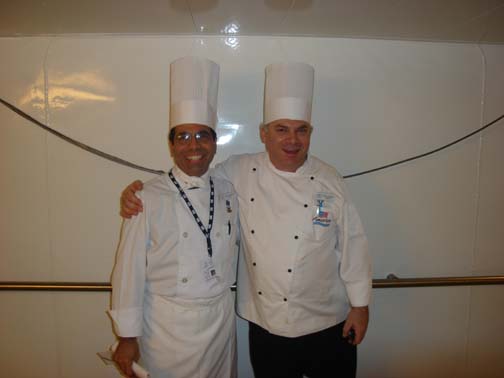 Sous Chef Carlos and Executive Chef Rainer on the "M/S Pride of America" NCLA 2008
---
Below are the Buffet's Dining Rooms Crew Members from the "Pride of Hawaii" Buffet Dining is on Deck 12.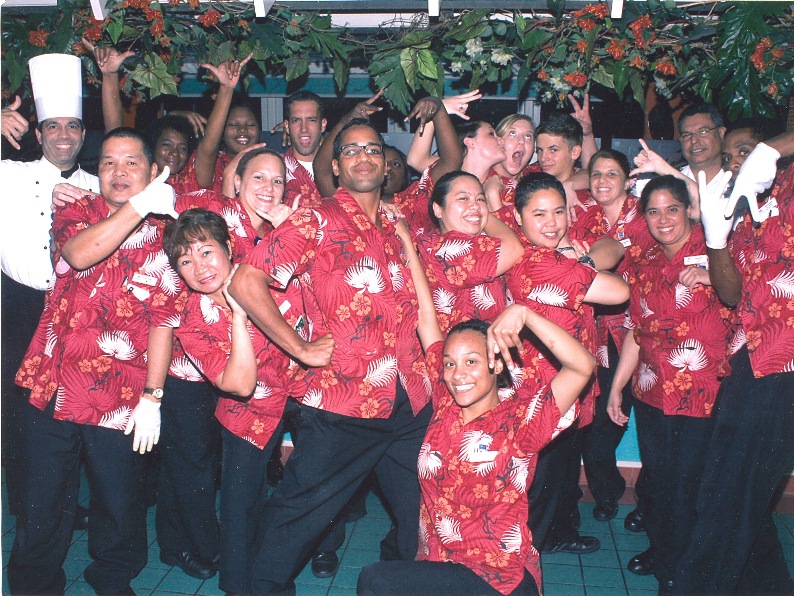 Sous Chef Carlos on far left and Frederick Gaserdoff, Restaurant manager far right! 2008
Arin Webber, Chris Straus, John Cousins, Gracie "24", Kashia, Ashley, Joni Guam, Harold "center posing",
Edwin and new members names not known at this time.

See a lots of more pictures here of the ship and my positions.

---
2007-08- Perricone's Market Place & Cafe 15 S.E. 10 St Miami FL.
Here I worked on my contact months off from the NCL Cruise ship as Head Grill Chef.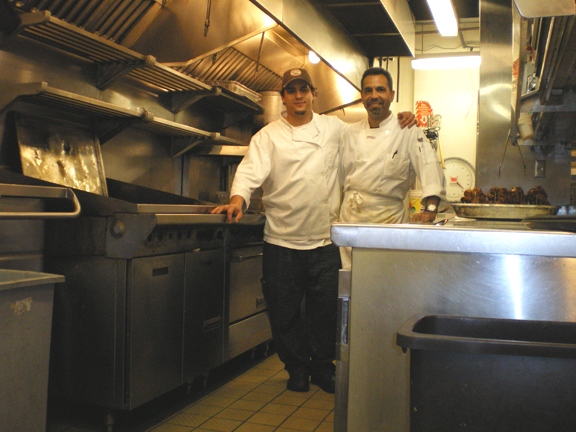 Kitchen Manager: Chef John and Lead Grill: Chef Carlos on right in the Banquet prep kitchen.

Perricone's Dinning Room area.
Perricone's Outdoor Garden Dining Room.

Chef John and Chef Carlos at closing of the restaurant after cleaning up to go
home after a very busy dinner. We were always in good spirits.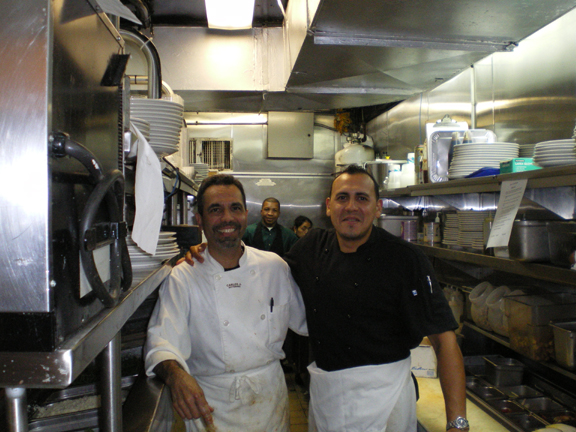 Grill lead Chef Carlos and Sautee man Juan.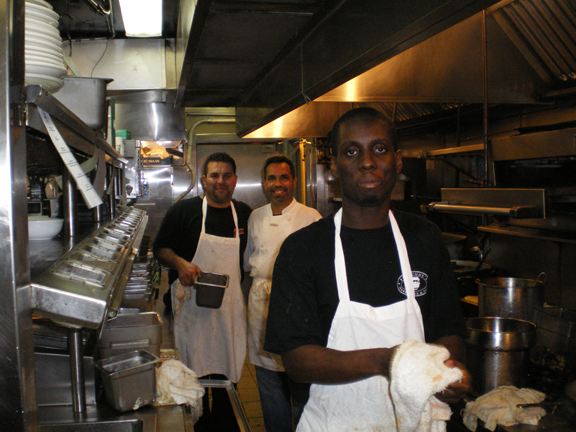 Assistant Cooks Raul back left and Michael front right and Chef Carlos in back right.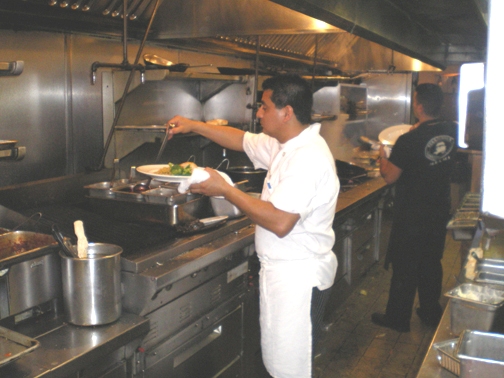 Sauté man Sal and Pasta man Rigo on back right.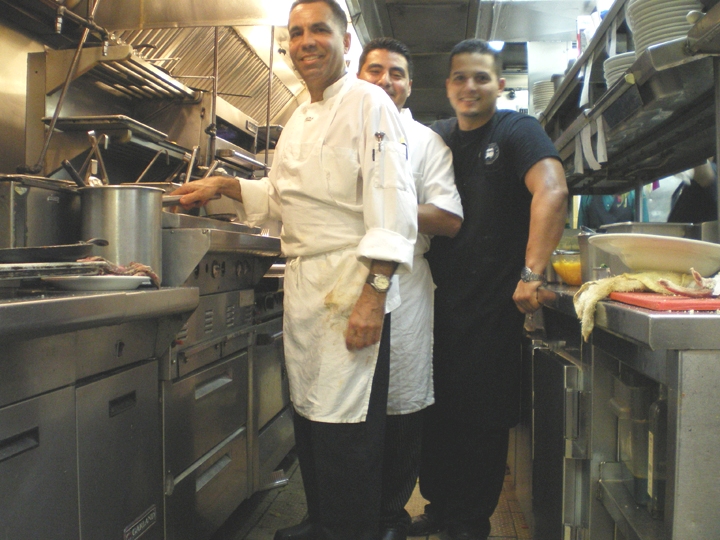 Chef Carlos at Lead Grill, Sauté man Sal and Pasta station Rigo on the right.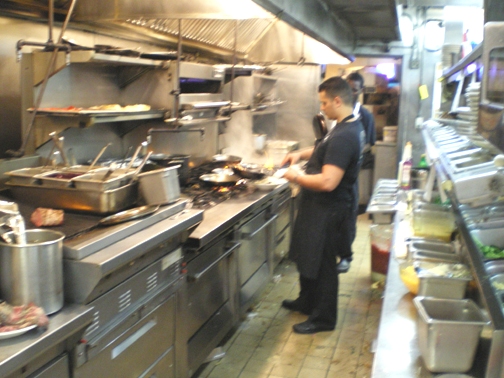 I worked the Grill, I had in this picture a Filet Migñon on the grill [left] Rigo at Pasta station.
I worked there when I came home from Hawaii on vacation for Norwegian Cruise Lines.
When it was time for me to go back to the Ship in Hawaii they did not want me to leave but I had to.
It was great working at Perricone's, Great Team, Owner and Managers.

---
1984 to 2005 Owner/Executive Chef of


Bombolini's Ristorante, Pizzeria and Steaks.
Chef Carlos Owned and personally operated as CEO all of the Bombolini's Restaurants from 1983 to 2005
Ristorante, Pizzeria, Seafood & Black Angus Certified Steaks.
NOTE: The

trade name and Chef logo may not be reproduced OR
USED FOR FOOD BUSINESS by any means or in any form whatsoever without
express written permission Authorizing it from
Carlos J. Gutierrez, registered "since 1984" Trade-mark Owner in Fl. 33016

See photos of the locations, menus and history of

See Chef Carlos'
YouTube Butcher Fish & Chicken in how to clips!
---

Our Traffic attorneys & my recommendation for your legal driving Defense


---
Before Bombolini's Chef Carlos work History is below!
♦ State of Florida Certified General Contractor,
♦ Outside Plant Technician for the Telephone company, Head Bartender, Disc Jockey,
♦ Road Manager in the Disco days, Architectural Draftsmen, Mechanical Draftsmen, Machinist/
♦ Tool & Die Maker, Auto Mechanic and worked at JC Penney's as stock and window display decorator.
♦ Plus when I was 12 and up, I did bicycle Newsday Paper delivery routes in NY as well as worked in small
shoe shop and small town food market and drugstore as stocking boy.
Wow that is a lot if I may say so Myself!
Read on below!!
---
1982 to 1984, Carlos was doing Contractor work and DJ work in the Miami Disco Club scene.
1984 found his first Pizzeria Location that was called Pizza express Above.
1980 to 1982 Prior to The Hospitably business
Tel Co. was going to layoff and cut employees so I decided and made the move to go and
apply at Delta and Eastern Airlines as
Junior Mechanic/ Since I was a Machinist and Tool & Die maker!
~~~~~~~~~~~~~~~~~~~~~~~~~~~~~~~~~~~~~~~~~~~~~~~~~~~~~~~~~~~~~
I worked for AT&T's Southern Bell.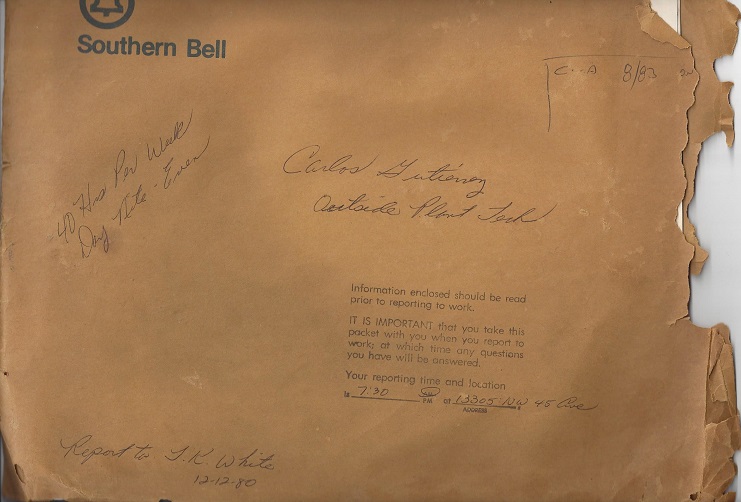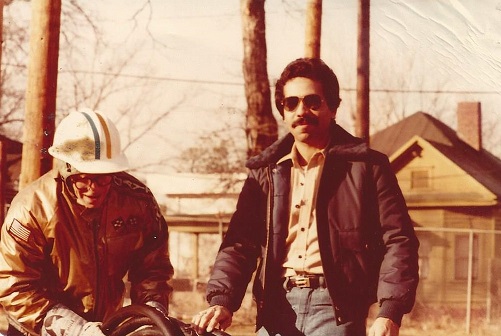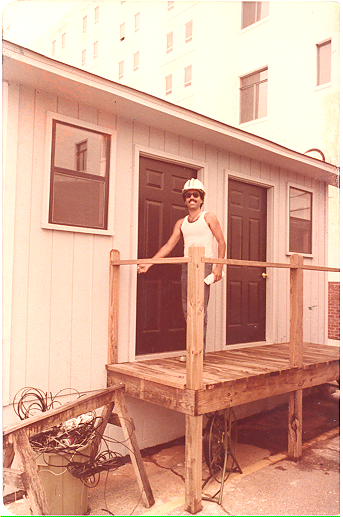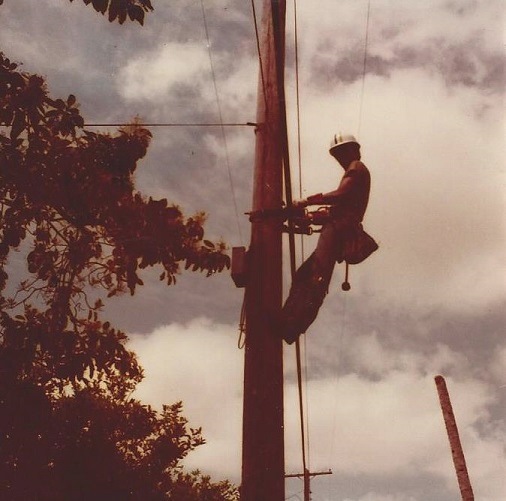 Me, Outside Plant Technician! Left Training in South Carolina 1980 Right: In Field 1982
Below partial training record I performed and passed with Bell South!
My Bell South/AT&T Outside Plant Technician Training Record to Jan 27,198

---
My Bartending History.
Graduated from Master School of Bartending in Miami Florida in 1975.
---
♥Opened the Cricket Club Miami on Biscayne Bld. as Head Bartender with
Beverage Manager Joe Russo in 1976 Set up and Opened Main Bar,
Set up and Opened Service Bars to Restaurant and Pool Bar.
Set up and Opened the Le Dome Disco Bar at The Cricket Club.
---
♥Worked at Rocky Graciano Restaurant on Biscayne Blvd and NW 136 St. Miami
♥Worked at Holiday in Miami Springs in 1978
♥Worked at El Floridita Downtown Miami
♥Worked at Spanish Pavilion on Coral Way
♥Worked at Petit Chalet Flagler St and 67 Ave Miami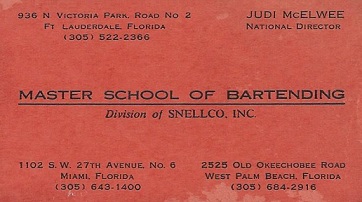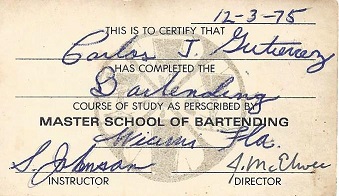 ---
From 1972 to 1980
A State of Florida Certified General Contractor
& did DJ Work.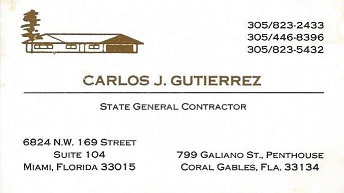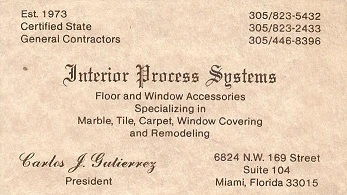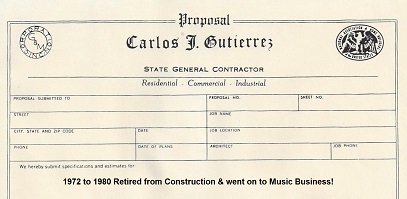 ---

From 1969 to 1982
Machinist, tool & Die Maker/Plant Supervisor with over 80 employees
and played in Bands as Bass and Guitar man.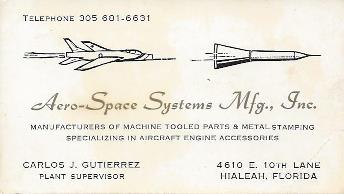 We moved location from Hialeah to a bigger facility to Miami Lakes in 1976
6001 NW 153 Street Miami lakes Fl. 33014
Below is an emergency note Posted to all Plant staff of 124 Employees at Aero Space Systems in
Miami Lakes Florida 1978, note we did not have Computer as we do today, see font from Type Writer!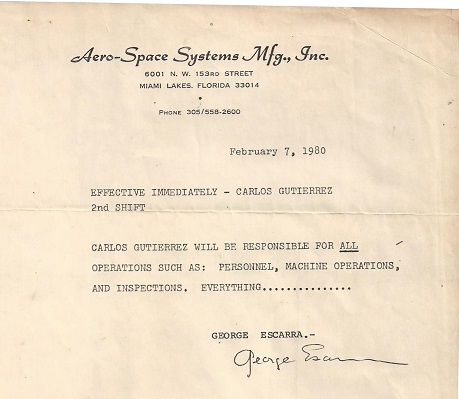 I went on to the Construction industry as a State certified General Contractor in the State of Florida from 1972 to 1984!

---

Manager at Exclusive Home Products
Wining month after Months Salesman of the Months and Manger of the Month Trophies!
1968 to 1970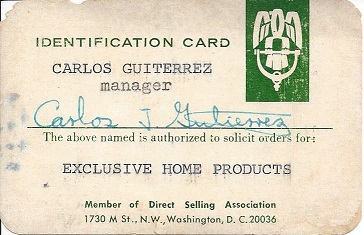 ---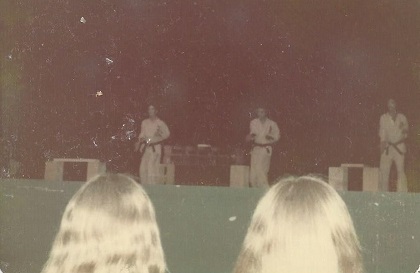 Karate Tournament and exhibition in Miami Beach High School 1973
Carlos J Gutiererz breaking Ice log in the center in the board breaking demo event!


---
Burger King night manager 1969 to 1970 in my Senior year at Hialeah High School

---
---
"LINKS" To Chef Carlos' Last Bombolini's Restaurant he had Open till Dec 2005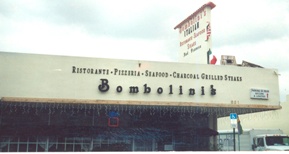 Above is the Last Bombolini's Location.
---

Get Free estimate and pick up in the Miami, Florida Area.
---
Our Sister Sites are named below
Is it time for a PC checkup?
Computers perform best when they receive regular, professional maintenance.
The installation and un-installation of software, hardware, and drivers often leave remnants behind in your registry, resulting in a tangle of unused applications, broken drivers, and incomplete and empty command signals. This mass of confusion slows down your computer and if not addressed promptly can lead to serious problems such as computer freezing, programs not responding, and Window's system crashes.
Take advantage of our Complete PC maintenance service for $45. It involves over 4 hours of fine tuning and updating of your Desktop or Laptops. [$10 Pick up & drop off may apply]
Fast, same day computer service
Hardware & software installation, maintenance & repair
Virus removal, blue screens & all manner of computer problems
Computer Repair in Hialeah, Pembroke Pines and South Miami, Florida
E-Mail contact / Cell: 786.447.9301
To see Computer and Microsoft Program help, Tips and Tricks
---
---
TELEMARKETERS CALLING YOU @ HOME & ONE YOUR CELL PHONE?
GO HERE TO THE DO NOT CALL NATIONAL REGISTRY LINK!
---
PLEASE NOTE:

is a SITE FREE of Viruses and Parasites!.
Junction Place! A Great Shopping Experience by: Bombolini's
---
Now Servicing areas: Miami Garden, Pembroke Pines, Miami Lakes, Hialeah Gardens, Brickell, South Miami [to limited distance], Downtown Miami, Coral Gables, Kendall, and Miramar.





Bombos Laptop and Notebook Repairs and Maintenance. Macs and Windows.
High replacement costs in Laptops and Notebooks. Whenever possible we try to repair the part before replacing it. Bombo's cost to you is much less than what a manufacturer or Big Name Stores charge for a replacement parts.
Bombos Desktops Repairs
We Know the importance of your desktop computer. Our staff desktop repair technician will diagnose any problem you are experiencing, and successfully repair whatever it is necessary to get your desktop working properly. We service all models and make of computer, including HP, Dell, Toshiba, Acer, Gateway, Sony, Asus, and many others.
Data Recovery Services in Miami Florida.
---
Things Women Do to Make Men Crazy!
---
---
Carlos, Eddy's, Helen and Michel Computer Repairs and Maintenance Web Site.
Miami Florida residents, for appointment,
Contact
We have used desktops and laptops for sale!
---
Get your Free lucky 5 or 6 Random Pick LOTTO numbers here!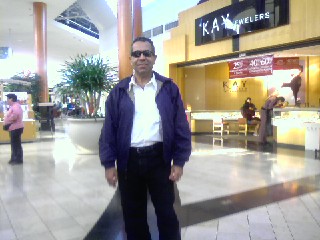 GIFTS? Visit www.USAMAll.us Today! And set up your Flowers and Great Gift orders Early!